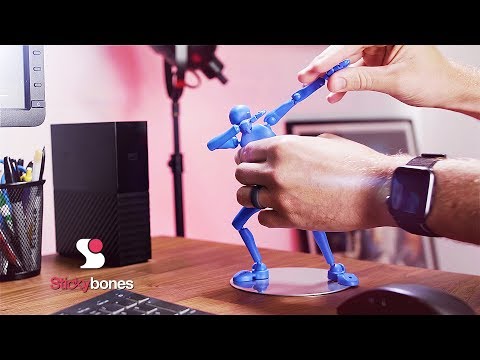 The Ultimate Artists Companion
Discover an unparalleled level of poseability
Intuitive flexiblity at your fingertips
Engineered Precision Built to Last
Poseable Mannequins for Drawing and Animation
Precisely Calibrated Magnetic Figure Models for Beginners and Experts
Drawing and Animation Figure Collection
Indispensable for Artists and Animators to illustrate and animate ideas quickly with their hands.  Stickybones are designed and manufactured in the USA, and feature a revolutionary, patented joint system that unlock infinite possibilities for posing.  Because of the ease-of-use, Stickybones art & animation figures are indispensable for professionals and beginners alike.

Product Details: 
LIFETIME WARRANTY (Click for details)
Materials:   Custom Polymers
Measurements:   8.5"L x 1"W x 1"H
Designed/Engineered/Manufactured:   United States
— Custom Engineering-Grade Polymer Construction
— Patented Joint System Enables Fast & Intuitive Posing
— Unparalleled Wide-Range of Motion, Strength and Durability
— 6 Internal Rare-Earth Magnets Contained Within Parts
— Precision Design & Molding
— 18 Gauge Stainless Steel 5" Round Pose Plate Included
"Simply put, these art and animation figures are the finest out there!"

YOU WILL LOVE THEM TOO!
Testimonials
Every public school should have one of these in their art program. It could inspire so many students to pursue all the options they have open to them.
Stickybones is just too beautiful to ignore.
This is truly a masterpiece... clap clap clap to everyone involved!